♥ Top 3
Monday, June 30, 2008
i stole this from Dee who stole this from Jeanny. hee
THREE NAMES THAT FRIENDS CALL YOU:
- Leysha
- Sha
- Emo -_-
THREE THINGS YOU'VE DONE IN THE LAST 30 MINUTES
- listen to music
- sing along
- answer my dad
THREE WAYS TO BE HAPPY
- listening to music
- hanging oit with me girls
- EDDY :)
THREE OF YOUR FAVOURITE SONGS AS OF FOR NOW
- Three Cheers For Five Years by Mayday Parade
- Rockstar by Prima J
- Semua Tentang Kita by Peterpan
THREE THINGS YOU LOVE IN A GUY
- Personality
- Jokes
- sense of style
THREE PERSONS YOU MISS NOW
- Kak Leya.
- Fatin
- Marin
THREE GIFTS YOU WOULD LIKE TO RECEIVE
- a NIKON camera
- hugs and kisses
- a black and white beetle volkswagon
THREE OF YOUR FAVOURITE HOBBIES
- writing poems
- jamming
- hanging out
THREE PLACE YOU WANT TO GO FOR NEXT VACATION
- America
- Penang
- Saudi
THREE FAVOURITE CARTOON/ANIME CHARACTER
- Nana Osaki of NANA
- Edward Eric of Fullmetal Alchemist
- Stewie of Family Guy
THREE OF YOUR FAVOURITE FAST FOOD
- pisang goreng
- mcd's
- KFC
THREE FAVOURITE DRINKS
- H2o on the go. hehe
- Root Beer
- Pepsi
THREE THINGS FOUND IN YOUR BAG
- purse
- camera
- keys
THREE OF YOUR FAVOURITE COLOURS
- black
- white
- red
TOP THREE YOU LOVE SO MUCH
- Vee
- Eddy
- Dee
♥ Meet Dead Roses For Darla
Monday, June 23, 2008
we come from Bandar Sri Damansara and we just love to rock. with our own song written by our very own, we plan to just rock and roll and have fun.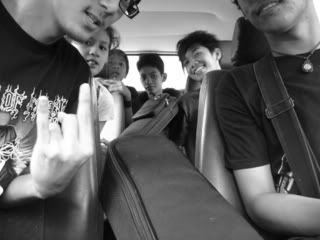 our most used transport, alann's beat up van.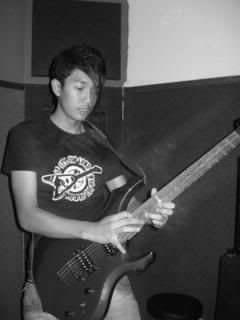 lead guitars, songwriter, 15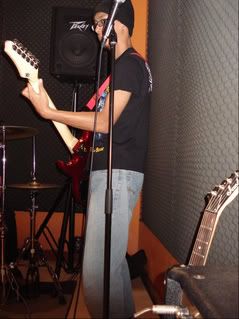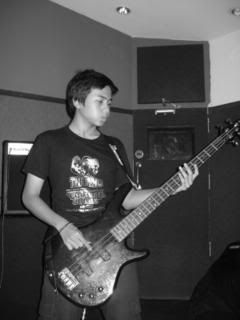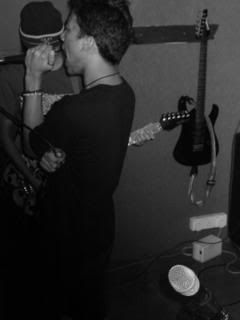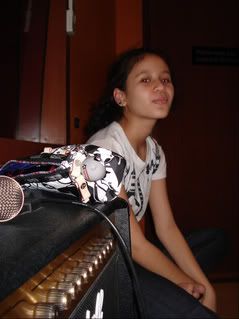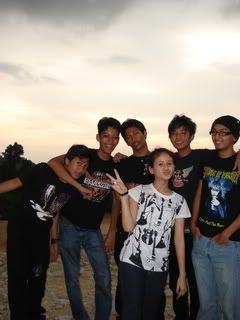 ♥ Pawan's Parteyh !
Sunday, June 22, 2008
the day started out with me, Edy n my mum hanging out at OU. after we got what we were looking for we headed on home. at home me n eddy practised the song we wanted to perform for Pawan wich was bubbly, one of her fav songs. after a while, Edy went home to get ready. so i took a bath, got ready, even put on make-up, said bye to my mum n sis n went to Pawan's house with Edy.
it was only 7 something bt already a few people were there, including our very own Sheryll. me n Edy watched th sunset while waiting for more people to come. when we got back, everybody already started eating. after eatng we all went in. Edy brought this kick-ass speaker and of course, we started dancing. of course, i was doing alot of tht. heehee. Pawan, Dee n Jeanny joined, thn soon almost everyone was on the dance floor. soon after tht Amir n Rais joined th party, u should've seen Dee's face.
after that we all did Shabooya. Amy gt a vid of it bt i didnt see it yet. we started off with the UGLY chant n thn of course i started th chain. haha. it was so mch fun. so, after a bit more dancing, we all sat down n started chatting. then Edy, Rais, Lee n I started singing a few songs for Pawan. after tht me n Sophie brought out th cake while Edy played Happy B'day on his guitar.
at 10.30 people started gng off. so mst of th friends hung out outside, eating peanuts n drinking water playing truth or dare which ended up becoming th Q&A game we always play in class. then after Amir n Rais went off, we went back inside to see Pawan's presnts. then we lpak-ed fr awhile before gng off with Vee n her bro.
i can honestly say that i had the best night of my life last night.
we also had a slow dance.
it was real sweet. everyone looked so peaceful. let's just say we were all on "Cloud 9"
au'revoire amour
♥ Sunsets.
Friday, June 13, 2008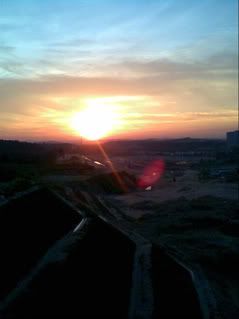 we had a jamm session just now. it was fun but my head was just throbing and so i couldn't hang around in the studio much. so many people went. but the important ones were,
after paying and the boys had their fags, me, Eddy and Alann got into Alann's van and drovw to mcd's with Mukhlis and Rais tailing us on Mukhlis' bike. there, we hung out and ate and just talked about our future jamming sessions. Alann was a little emo cause he just got back from sending Tawfik off to New Zealand. so we all tried our best to cheer him up. and slowly he came back to us. then after we finished eating around 7, i turned around and saw the bright orange sun. and i just turned back to th boys and shouted "i wanna see th sunset !"
then Eddy said he'd show us a spot where it'd be really nice to see. so we all got into our respected transports, and with Eddy's directions, headed off. Rais and Mukhlis were so close to us that we started talking on th way there. and everybody stared. then i realised something so pretty. when i looked up with the wind blowing in my face and Mukhlis and Eddy's laughter in my ear, i could see th moon. it wasn't full. yet it was still so pretty. but when i turned to my right, i could see the big orange sun dissapearing into th mountains.
coming out of my daze, i heard Eddy screaming at us to hurry up because th sun was setting, fast.
we had to go through all the bushes and mud puddles to get to the place. Eddy carried me half of the way. hee. when we reached there, we were all just so awe-strucked. it was just so beautiful. the picture i have isn't very good and it doesn't even compare to th real thing. we all just sat on this huge rock on the hill and talked about what we wanted to do before Alann left for college. the sun was far yet it looked like it was just so close. then we all watched it slowly fade away into the mountains. then the boys wanted to get home, so i hopped on Eddy's back and we walked back to th van. said our goodbyes to Mukhlis and Rais and drove off. then on th way home, i noticed the moon again. it was already getting dark. then i turned around and saw th rays of yellow, purple and red slowly fading away. then i finally, turned back around, put mu head out th window and enjoyed the ohh so cooling breeze of Alann's driving.
♥ Apologies
Thursday, June 12, 2008
This to everyone that i hve ever hurt,
for all your pain i couldnt see,
for kicking down into the dirt,
for taking away your happiness and glee.
i'm sorry for lying.
i'm sorry for fighting.
i'm sorry for shouting.
i'm sorry for hitting.
i'm sorry for talking back.
i'm sorry for treating you like you shouldnt exist.
i'm sorry for not being there when you needed me.
and i'm sorry for just trying to do the right thing.
"help, i have done it again,
i, have been here many times before,
there's no one else to blame."